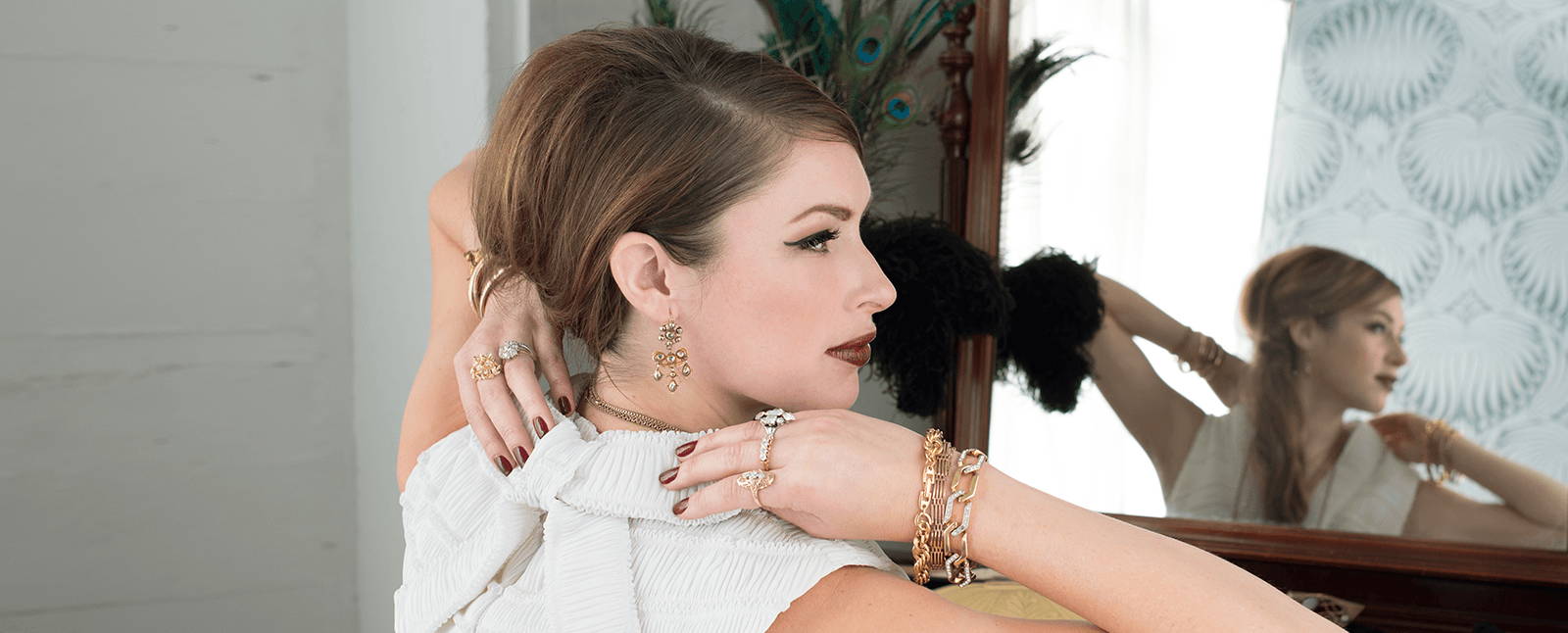 May Birthstone Jewelry - The Emerald

The Romans and Greeks loved emeralds, associating the gem with the goddesses Venus and Aphrodite.
Some historians estimate that the oldest emeralds are nearly three billion years old. They were mined in Egypt as early as 330 BC.
Throughout history, emeralds have been embraced by royalty and the elite.
Egyptians embraced emeralds in jewelry as well as their elaborate burials. Cleopatra famously cherished emeralds and during her reign, claimed ownership of all emerald mines in Egypt.


Emerald means "green" in Greek. Like aquamarine, emeralds are a variety of beryl. They range in color from light to dark green, with the intense, darker shades valued higher.
A symbol of rebirth, emeralds are believed to grant wearers youth, good fortune, and foresight.
The gemstone has been associated with healing properties for diseases related to fertility, eyes, headaches, the spine and mental capabilities. Emeralds were also believed to provide eloquence in speech, reveal the truth, and make people more intelligent and honest.

---
Latest Arrivals - May Birthstone Jewelry
---
This lush, bluish-green natural emerald is so gorgeous. The square emerald step cut stone is highlighted by the cool platinum of the handcrafted 1940s setting. The emerald is accented by straight baguette and round brilliant cut diamonds set in the shoulders of the ring. So many lovely details: fancy triple split prongs, knife edge band and milgrain accents. This ring is everything. Circa 1940.
This ring comes with an insurance replacement cost appraisal. The appraisal is done by an independent gem lab. The appraised value is $6500.
Gem Details.....The Emerald is 1.08cts, square emerald step cut with M2 clarity. There are two diamond baguette accents, 0.09tcw with VS clarity and H/I/J color, and two diamond round brilliant accents, 0.03tcw with SI clarity and H/I color.
Details.....Currently a size 7.25, one free sizing is included with the purchase. In Excellent Vintage Condition. You should always expect some wear on vintage and antique jewels, we consider it part of the charm.
---
A bright green emerald drop is suspended from a hand wrought dimpled yellow gold oval, creating a beautiful pendant necklace. This unique necklace was hand crafted exclusively for GSL by brunet. This necklace is made from recycled 14k yellow gold.
Details.....The emerald measures 10.5mm and the drop from the chain is .80". Each item of this jewelry line is hand crafted using unique and often vintage and recycled pieces. This will be made to order especially for you and may take up to 10 days to ship.
---
The perfect shade of green. These emerald earrings are like sunshine in a lush garden. The emerald drops are suspended from tiny recycled 14k yellow gold filigree panels. The ear wires are 14k yellow gold lever backs for extra security. This unique pair of earrings was hand crafted exclusively for GSL by brunet.
Details.....The emeralds measure 8.5mm and the drop from the ear is 1.75". Each item of this jewelry line is hand crafted using unique and often vintage and recycled pieces.
---
So beautiful. This pendant is 18k yellow gold, set with foiled Precious Topaz and Emeralds, it dates from the 1830's. It is all original and in such fabulous condition. Originally this would have been worn on a ribbon but we have added a chain for ease of wear. You can slide it right off of the chain and onto a ribbon for a fancier look.
Details.....The pendant measures 45.5mm x 32mm. The chain is 18k yellow gold modern and is 18" long. This lovely pendant is in excellent antique condition. You should always expect some wear on Vintage and Antique jewels, we consider it part of the charm.
---
Member of the American Society of Jewelry Historians. Just ask for information on any piece and we will tell you about the era and more.
Free shipping for the USA. Fast, insured, and secure! Your package will be carefully prepared and delivered in a timely manner.  
Trust that your ring will be a perfect fit. Don't know your size? That is OK, we will find out together with a sizing tool. Due to popular demand, resizing is limited for in-house jewels only.
Whether you purchase an antique or vintage piece, our handcrafted 720 line, or Ancient Influences line, all of gems and metal are recycled.
In-store and online, your payment security is a top priority. We are PCI compliant and SSL secure! Make your purchase with peace of mind. We accept all major credit cards.
Our Jewels always ship in our elegant signature packaging, great for gift-giving!
---
Elegant Signature Packaging Included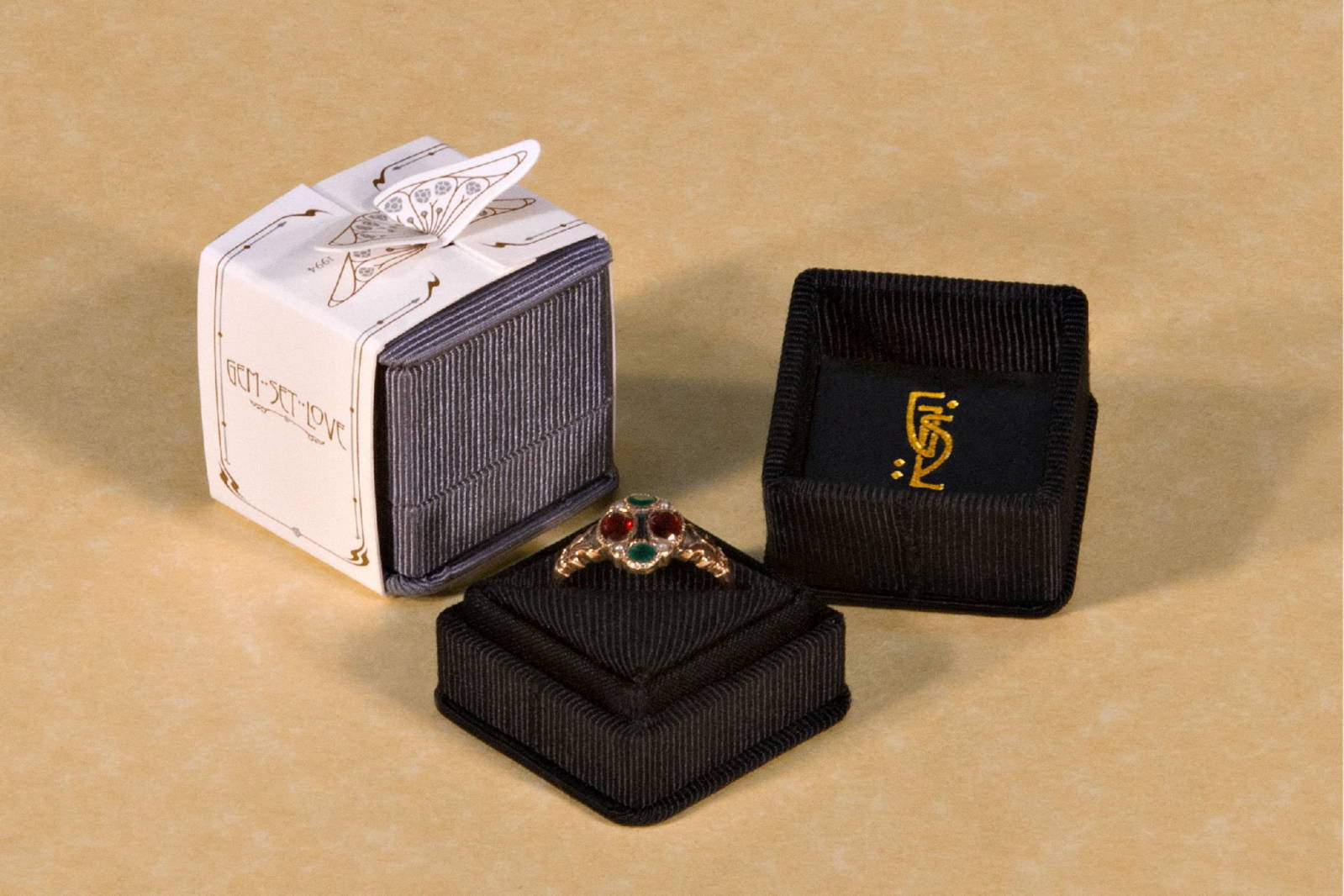 Elegant Signature Packaging Included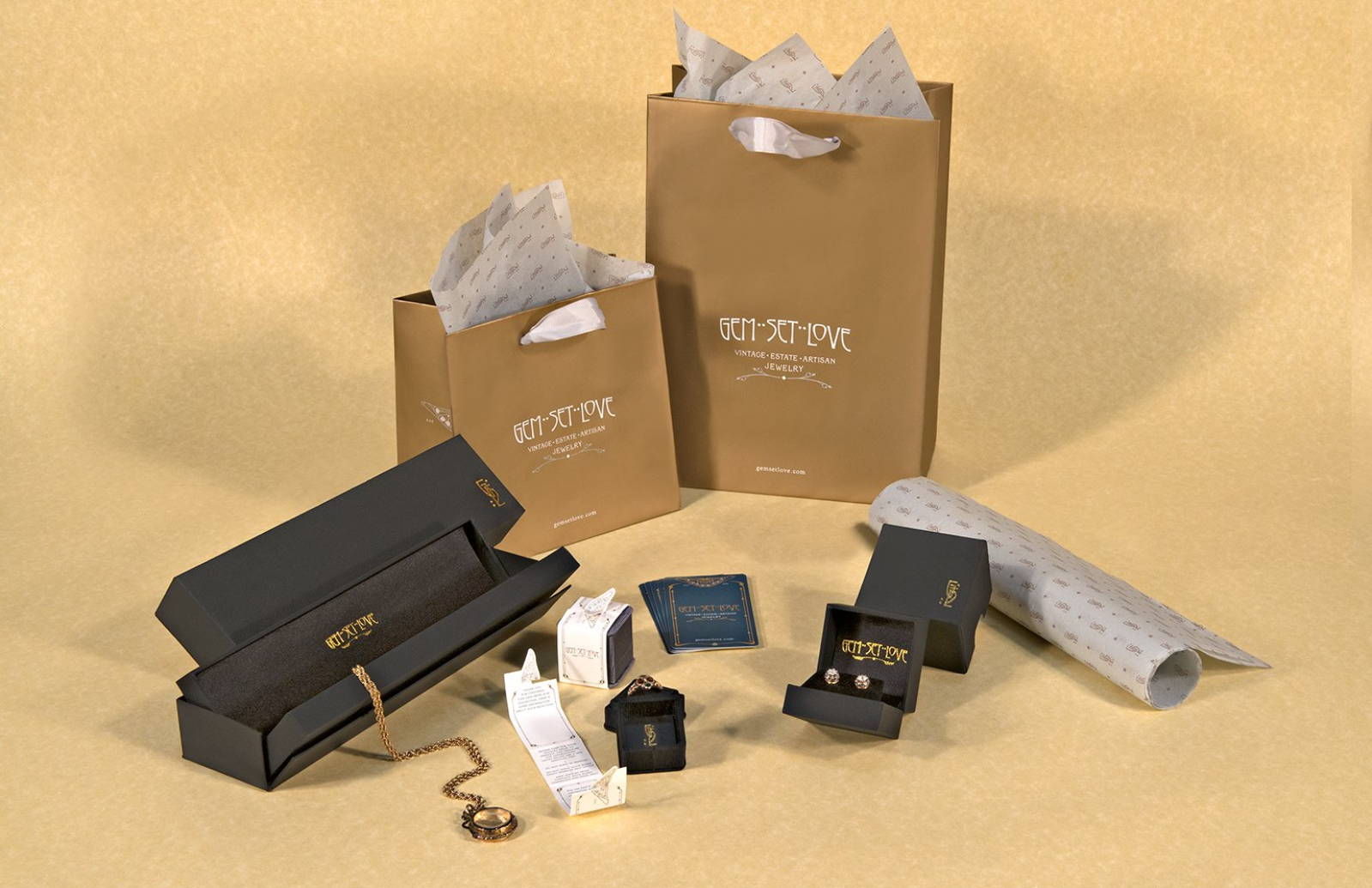 Elegant Signature Packaging Included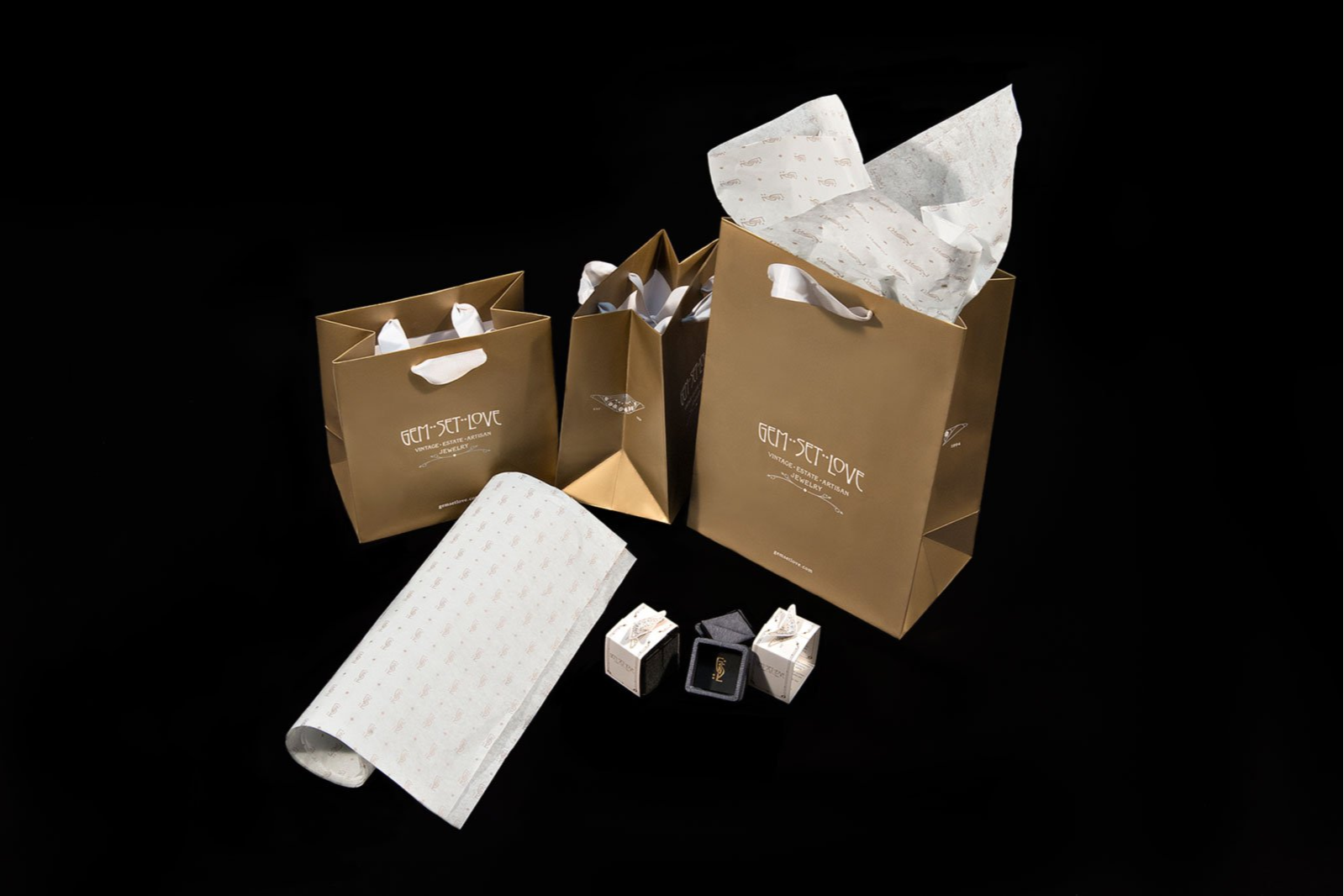 ---
Lovely Words From Past Customers
"I adore my ring (1940s white gold with diamonds and lab sapphires) and can't wait to come in and have it sized with y'all. Thank you again. You made one of the happiest events of my life even more special with your incredible product. All the best,"
Kate & Derek
15 SEP 2018, 8:42
"Bought my Engagement ring here & it's So Beautiful!!! Vintage 1940's Sapphire & Diamonds in a Platinum seething. Their jewelry is Amazing & Great Customer Service!!!"
Kelly Smith
20 MAR 2019, 12:21
"I saw a ring I loved online and asked a ton of questions via Facebook messenger. They were so responsive and helpful! The whole process was so simple and the ring was shipped in no time. It's BEAUTIFUL! It fits just perfectly and I couldn't be happier! Thank you!"
Betty Rivera
15 SEP 2017, 14:42
---
"Top 20 Portland Jewelers"
Thank you to Expertise.com who recently selected Gem Set Love as one of 20 top Jewelers serving the Portland area. They reviewed 141 Portland Jewelers and graded all of us based on - Reputation, Credibility, Experience, Availability, and Professionalism.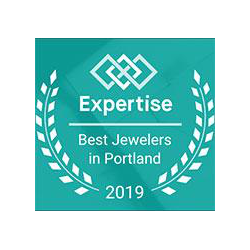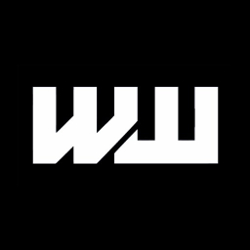 "Whether you're looking for that special Edwardian platinum ring with diamonds and sapphire filigree engagement ring or perhaps a less gaudy recycled ring using a vintage cast, Gem Set Love has been the place to go for 22 years."
Gold Rush: Make a Statement with Stacked Rings

Love from Portland Bridge & Groom's Magazine, featuring three spectacular pieces from our shop in the January 16th, 2018 magazine edition. Featured article linked here.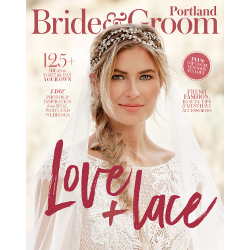 ---
---
Interested in Learning About Jewelry Through the Eras?
MOURNING IN THE VICTORIAN PERIOD
INSTALLMENT 1 OF THE IDENTIFLY SERIES
-Paula Bixel - Proprietor
"Wearing jewelry in remembrance of our beloved dead is a tradition that originated in the 16th century, but the fashion for mourning jewelry reached its height during the reign of Queen Victoria. Victorian mourning jewelry, particularly those pieces dating to the earlier part of this era, are of special interest to lovers of antique jewelry due to its uniquely personal nature; few other styles of jewelry allow such an intimate glimpse into the past." (read the rest of the blog post here)

---
---
Private, In-Store Appointments

For Everyone's Safety:
No other customers will be in the store.

All jewelry throughly cleaned after each appointment.

Masks required, one can be provided.

Bring photo ID to show at the door.
Email appointments@gemsetlove.com to reserve your time.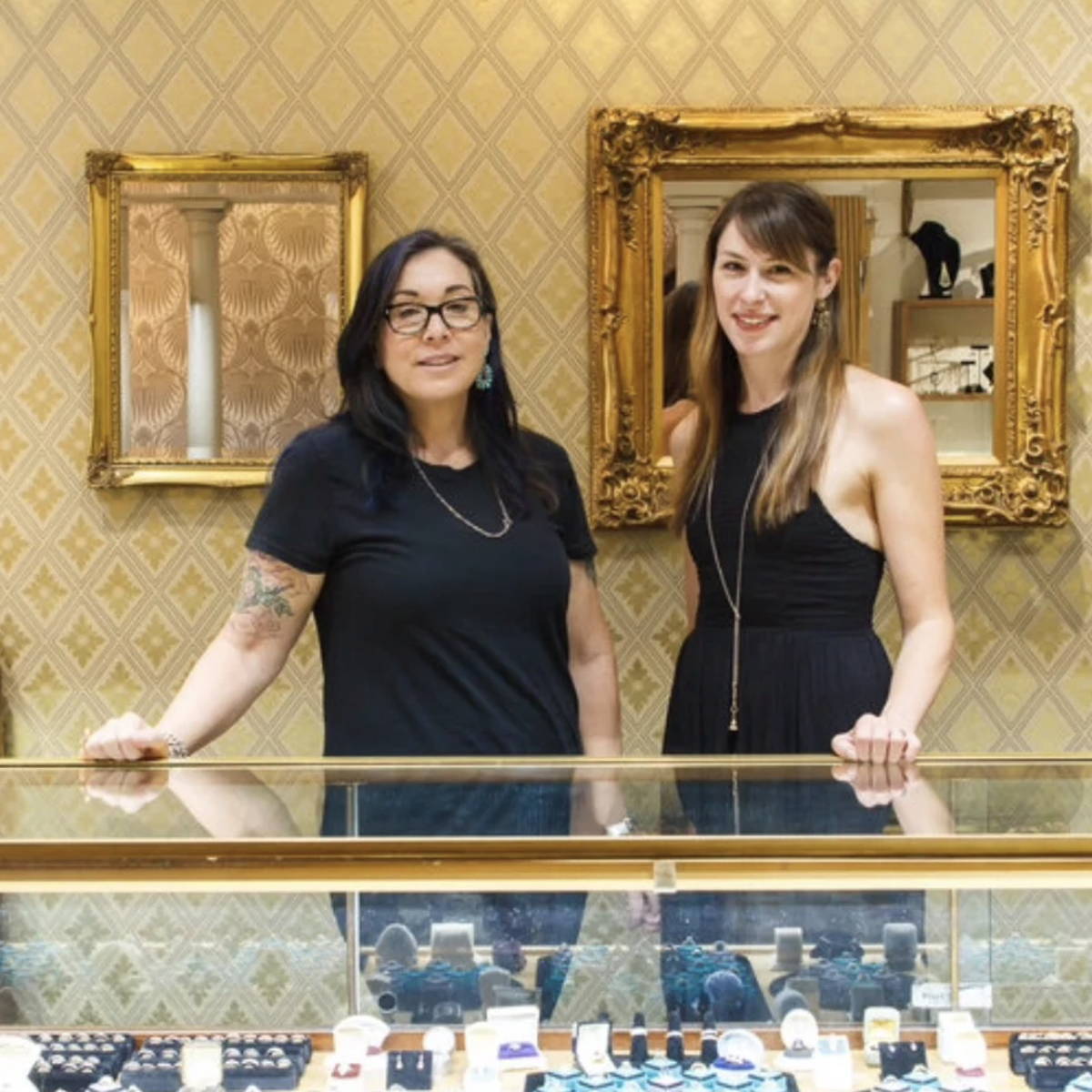 ---